See the Events page for details of upcoming events.
The Fitzroy History Society Oral History Project is now available here: https://oralhistory.fitzroyhistorysociety.org.au/
Now you can listen to The Fitzroy Diaries online here or by searching for it in your podcast app.
The Society is now on FACEBOOK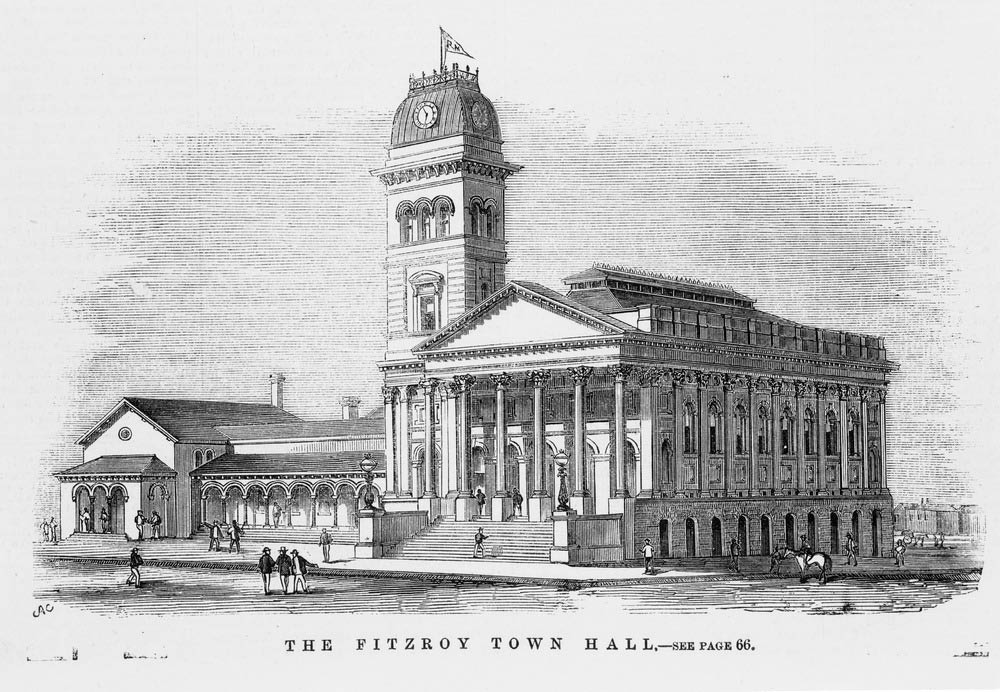 1905 Fitzroy Club Hotel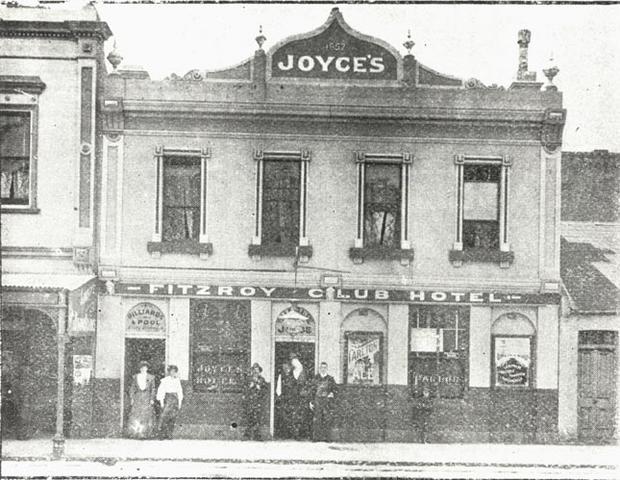 The Fitzroy Club Hotel was at 382 Brunswick Street, east side just north of Rose Street. Today the building is occupied by Sheila Vintage Clothing.
After its name change from the Eglinton Hotel in 1891, early licensees were Francis Bennett (1893), Sarah Keyson (1894), Susan Stevens (1895), Theresa Dwyer (1897), Nellie Allen (1898), Ada Quinlist (1899), Mary Ann Noel (1900), Margaret Hancock (1901), Mrs S Mackay (1904), Charles Joyce (1905-08). It was delicensed and the building sold in 1916.
The Evelyn Observer (Whittlesea) reported on the annual sports day in Feb 1905:
A social was held in the local hall at night. Mr Francis, of Fitzroy, presided at the piano, and Mr P. Glennon made an efficient M C. Mr C Joyce, of the Fitzroy Club Hotel, Brunswick.street, lent most valuable aid, his songs "The man that struck the gold mine in Coolgardie" and "The Golden Wedding" being loudly applauded. M.M.
Description: 1905 Image held by Fitzroy Library. Charlie Joyce, Proprietor. Taken from the Collingwood and Fitzroy illustrated Directory and Handbook, 1905.
Subject: hotels & taverns
Please Contact:
Yarra Libraries
Phone: 1300 695 427
Email:
Website: www.yarracity.vic.gov.au/Libraries/
The establishment of this website was funded by City of Yarra through the City of Yarra Grants Program.
The Fitzroy History Society is grateful to the City of Yarra and the Yarra Libraries for their continued support.
Original material submitted to Fitzroy History Society website remains the property of the submitter who nonetheless agrees that though the material may be freely copied, it may not be used for financial gain without the permission of its rightful owner.
The Fitzroy History Society hopes to provide accurate and up-to-date information on its website but takes no responsibility for the accuracy or completeness of that information.