Gertrude Street Booklet – A History of Gertrude Street
Half-Drowned or Half-Baked – Essays in the History of North Fitzroy
Fitzroy – Melbourne's First Suburb
Cutten History Committee of the Fitzroy History Society.
Melbourne University Press, 1991
The first edition was published in 1989 by Hyland House Publishing Pty Limited
Newtown Paper No. 1 Fitzroy: A Descriptive Bibliography
E.W.E. Cutten Trust 1989 by Carole Woods
Newtown Paper No. 2 The Fitzroy Public Library 1877-1997,
Written by Carole Woods and published by the Fitzroy History Society in 2000
Newtown Paper No. 3 The History of Fitzroy Town Hall,
The Heart and Soul of Fitzroy,
Michael O'Brien, 2007
Francis Clark: a man of his time 1820-1896
Listen to a lecture by historian Val Noone, recorded at The Fitzroy Historical Society AGM in August 2013
The following publications produced by various members of the Society over a period of time are available from the Local History Collection at the Fitzroy Branch of Yarra Libraries, 128 Moor Street Fitzroy.
MacRobertson, The Chocolate King,
Jill Robertson,
Lothian Books, 2004
Gertrude Street,
Jill Robertson
Fitzroy History Society Inc., 2008
Reflections of Fitzroy,
School of Historical Studies,
The University of Melbourne,
2008 Fitzrovians
Brunswick Street – Lost and Found

Edited by Miles Lewis
Fitzroy History Society Inc.,
Faculty of Architecture, University of Melbourne,
National Trust of Australia (Victoria), 2012.
Can be viewed/downloaded by chapter below:
Cover, Title page and Table of Contents
M. Lewis: Brunswick Street Found
M. Moore: Early Brunswick Street in 1839 and 1841
M. Lee: Naming Brunswick and Gertrude Streets
T. Gatehouse: The First Residents of Brunswick Street
T. Fraser: The Bunbury Letters From New Town
C. Pugsley: The Veterinary College
M Lewis: Brunswick Street Lost
Travelling to Fitzroy in 1841: The Journey of Sarah Bunbury.
Produced to accompany a guided walk during the National Trust Heritage Festival in April, 2014, the 16 page booklet tells the story of Sarah Bunbury's journey from England to Fitzroy in 1841, using her unpublished letters and the journal of Georgiana McCrae.
War Service of Fitzroy Citizens Before the First World War by M.P.J. O'Brien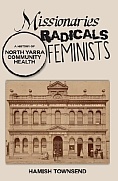 Missionaries, Radicals, Feminists is the story of North Yarra Community Health. Established by John Singleton in 1869 in gold rush Melbourne and based on British models, the Collingwood Free Medical Mission Dispensary was among the first of its kind in Australia. Singleton's was the first place in Australia to employ women doctors and was associated with many other reforms in health care, especially after it evolved into Collingwood Community Health Centre in the 1970s. These included campaigns around lead in petrol, cigarette advertising, free needle exchanges, welfare rights, and work injuries. Later amalgamations with Carlton and Fitzroy Community Health Centres created today's North Yarra Community Health.
The book is available for $20 from North Yarra Community Health, 75 Brunswick Street, Fitzroy.
The Society's Rules can be found here: Fitzroy History Society – Rules