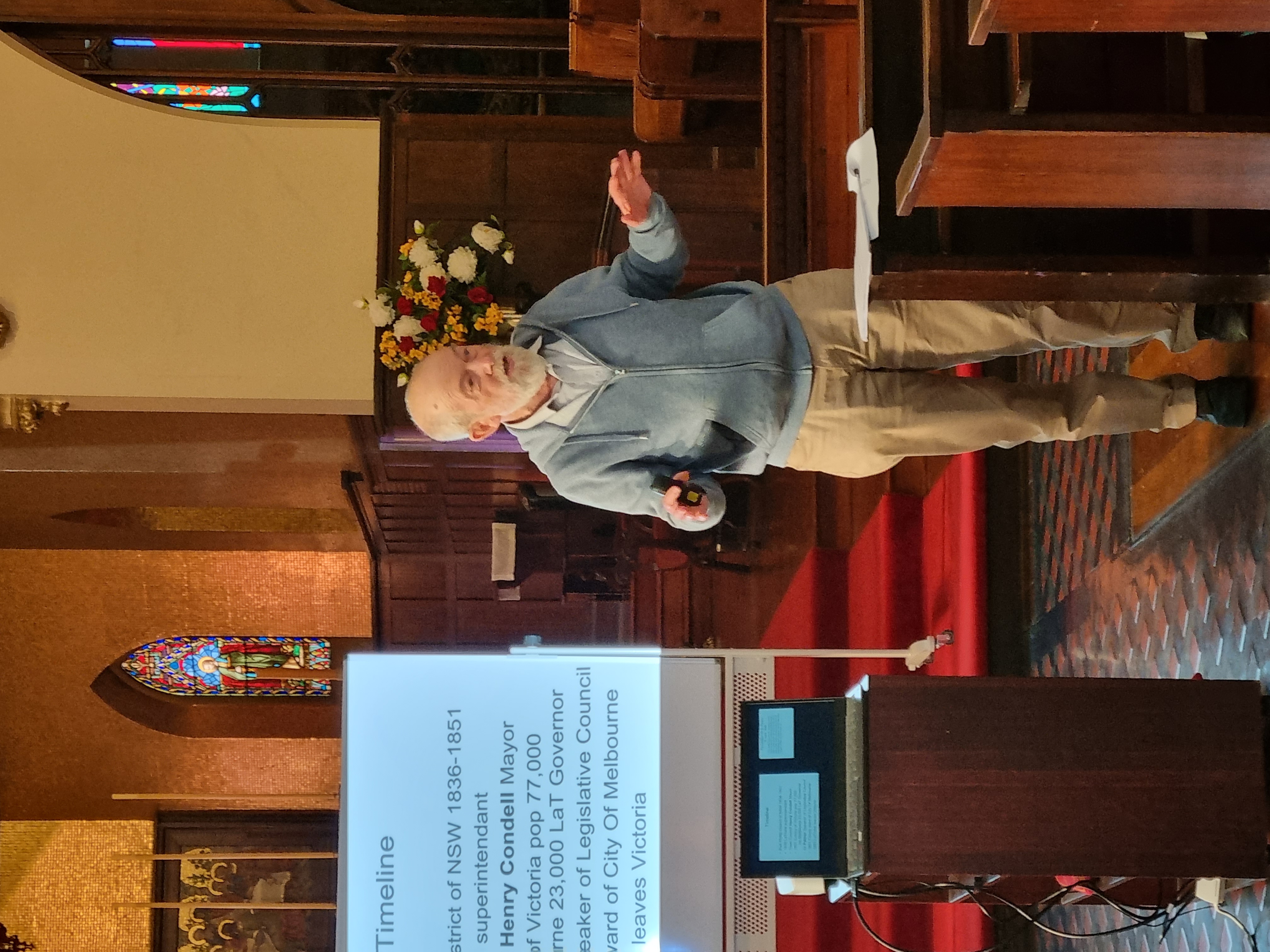 LaTrobe talk
Our LaTrobe talk was the third time the FHS had tried to organize the get together in the past 18 months. A tribute to ours and others persistence over the Covid period. We were fortunate to be able to hold the event in St. Peter's church in East Melbourne which held particular significance for Governor Charles LaTrobe as he was a regular attender.
We had 52 people attend the talk. A welcome was given by the Bishop of the church, David Farrer. He gave some history of the construction of the church which was started in 1846 and added to several times over the ensuing 20 years. The workmanship varied due to the exodus of skilled tradespeople to the goldfields. A foundation stone laid by Governor LaTrobe is reported to be located on the church premises, but has never been found. Governor LaTrobe did leave a casket to the church, and there is a memorial plaque to his wife Sophia.
The talk was separated into 3 parts. Tim Gatehouse from the La Trobe society talked about LaTrobe the person. Peter Yewers talks about LaTrobe's relationship with the City council and Mike Moore talked about the relationship of LaTrobe to Fitzroy. Some significant dates and events are shown in the dot points below.
Port Phillip District of NSW 1836-1851
1839 LaTrobe superintendant
Town Council Henry Condell Mayor
1851 Colony of Victoria pop 77,000 including Melbourne 23,000
1851 LaTrobe Governor
Dr Palmer Speaker of Legislative Council
William Kerr 1812-1859
1851 Fitzroy ward of City Of Melbourne
1853 LaTrobe leaves Victoria
1855 Self Governance
1858 Municipality of Fitzroy
1861 Victorian population 540,000
Henry Moor member of House of Commons for Brighton 1864 -1865
1865 bill for Colonial Governors' pensions
Bill amended to define the District of Port Phillip as a colony
Death of LaTrobe 4 December 1875
Many of the people involved at the time are remembered in street names across Fitzroy.