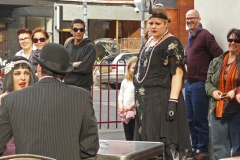 National Trust Heritage Festival, April, 2013
During the National Trust Heritage Festival in April, FHS conducted walks in Gertrude Street.
The social history of the street was expounded by Maria Frendo and Michael Doogan, aided by a cast of actors organised by Rose Chong.
Professor Miles Lewis conducted a walk that looked at the architectural history of the street.
The illustrated handout of his walk can be found on the Walks page of the website.
Photos from the walks are below.