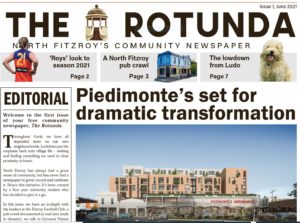 Welcome to the first two issues of your free community newspaper, The Rotunda. Throughout Covid, we have all depended more on our own neighbourhoods. Lockdown put the emphasis back onto village life – seeking and finding everything we need in close proximity to home.
North Fitzroy has always had a great sense of community, but has never had a newspaper to grow, record and celebrate it. Hence this initiative. It's been created by a North Fitzroy resident – a first year university student who has decided to give it a go.
Links to the first two issues are below.